February 23, 2017
The Left's Paid Goons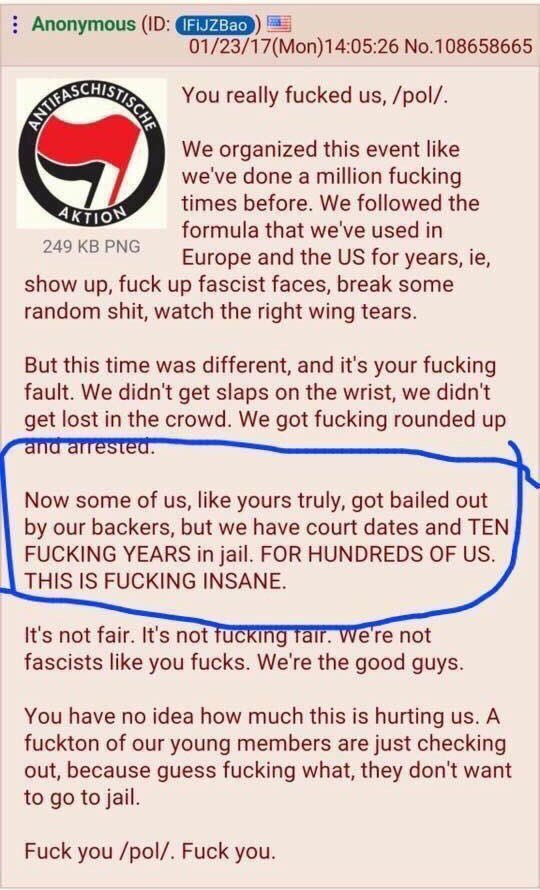 First, my apologies for the language in the image above. What you are seeing is a rant from one of the American Left's paid thugs. Aside from the excessive F-bombs it's quite revealing.
The goon starts by outlining their standard formula for "protest."
"Show up, 'F' up fascist faces, break some random shit"
It should be noted that "fascist faces" means "any person we think might possibly not agree with us." And the random shit they break often seems to be Starbuck's windows and ATM machines. Maybe it's just that there are just a lot of those available.
But it's ok. They are getting paid and the really lucky ones get bailed out by their "backers." It would be interesting to know which organizations and which people are financially backing messing up faces and breaking stuff.
Because this violent criminal then goes on to complain that it is not fair that he and his fellow travelers are facing court dates and ten years in prison. Whining that you face jail time for willful premeditated assault and destruction of property is pretty pathetic.
What would be truly fair is if your backers were in the cell next to you.
Posted by: Stephen Macklin at 07:29 AM | No Comments | Add Comment
22kb generated in CPU 0.01, elapsed 0.0174 seconds.
34 queries taking 0.0069 seconds, 201 records returned.
Powered by Minx 1.1.6c-pink.